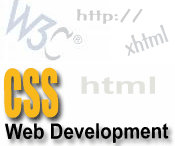 Cascading Style Sheets, fondly referred to as CSS, is a simple design language intended to simplify the process of making web pages presentable.
CSS handles the look and feel part of a web page. Using CSS, you can control the color of the text, the style of fonts, the spacing between paragraphs, how columns are sized and laid out, what background images or colors are used, as well as a variety of other effects.
CSS is easy to learn and understand but it provides powerful control over the presentation of an HTML document. Most commonly, CSS is combined with the markup languages HTML or XHTML. Learn how to use CSS instead of technology.


15 CSS Habits to Develop for Frustration-Free Coding
Here are 15 incredibly useful CSS tricks that will help you design great web interfaces.
15 CSS Habits to Develop for Frustration-Free Coding

CSS shorthand properties
Using CSS shorthand properties you can reduce the size of your CSS document.
CSS 3 selectors
A collection of CSS3 Selectors is given on this page.
CSS2 Quick Reference Guide
A quick reference guide for Web Developers.
CSS2 Properties Reference
A complete list of all the CSS2 properties explained with examples.
CSS Useful Resources
A collection of CSS Sites, CSS-Techniques , CSS Menus links, Books and Articles is given on this page.